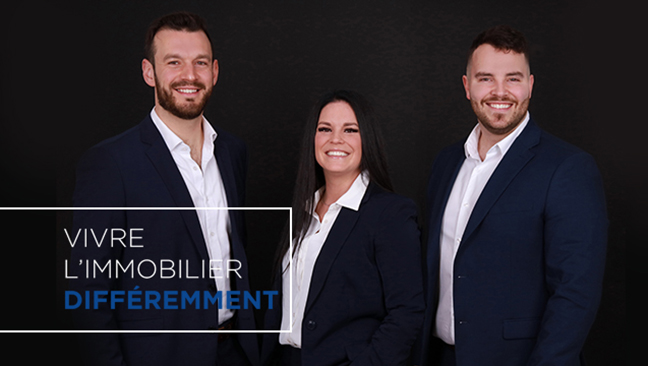 Live the real estate differently
The idea of founding the NOËL team comes from an aspiration to do things differently in the real estate brokerage world.

It is by combining the strength of a close-knit team with incomparable potential with an environment that promotes the autonomy and development of each of its members that we stand out.

The NOËL team aims to exceed the expectations of its clients and make them experience real estate differently. Demonstrating humanism, creativity, transparency and a desire to surpass oneself are prerequisites for joining the NOËL team.

Our common values, the sharing of knowledge, our flexibility and our complementary experiences make us a high-performance team with contagious energy. Clients have the advantages of doing business with a real estate team, but also participate in the individual development of their respective broker, which is essential in the NOËL team.

Together, we will exceed your expectations.

Come experience real estate differently.
---
CONTACT US
Gabriel Noël

Residential and Commercial Real Estate Broker

Real estate broker since 2017, I support people in the greater Estrie region in one of the biggest stages of their lives. Having the opportunity to positively impact people's lives is a source of great pride for me.

Before that, I worked for more than 6 years in the field of construction of single-family homes, condos, prestigious properties as well as in renovations of all kinds. To achieve this, I completed a DEP in carpentry-joinery and another in general building maintenance in Sherbrooke.

This wealth of experience allows me every day to properly advise my selling and buying clients on the quality of the properties we visit as well as to be a wise asset during negotiations following a building inspection. This unique journey has allowed me to stand out from the competition and achieve the goals of several hundred clients over the years. Holding a residential and commercial brokerage license, and being the owner of rental properties myself, I will therefore be able to support you in a multitude of projects. I am also involved with several Estrie foundations, which is very important to me.

Finally, having practiced several team sports, by working with me, you will have the chance to discover a competitive broker with heart in his stomach, a strategic mind, who likes to exceed his limits and will be most loyal to you. Looking forward to meeting you and making you experience real estate differently.

Philippe Gélinas

Residential Real Estate Broker

Being a real estate broker means having the opportunity to accompany, advise and guide my clients in one of the major projects of their lives.

It is a privilege to be able to orchestrate the different stages of a purchase or a sale and that is why I put passion, energy and dedication into it every day.

My background is unique. My training as a patrol officer at the École Nationale de police du Québec, my time at the University of Sherbrooke in Business Administration and teaching, as well as my 10 years in customer service have given me a multitude of tools allowing me to be a successful broker.

Understanding of the market, sense of organization and excellence in communication, this is what sets me apart!

I am happy to be part of the Noël team, a team that joins me in its concept of teamwork, collaboration, where everyone's strengths are pooled to offer the most complete service possible.

With me, find a professional broker, dynamic, attentive, strategic and above all, who cares about the success of your project.

Looking forward to making you experience real estate differently.
Gabriel Noël

Philippe Gélinas

Bianca Roy
Our properties
---

Loading
Testimonials
---
My husband and I have nothing but praise for Gabriel Noel and his team! We had a great experience with selling our home and everything went better than we could have hoped. Gabriel and his team were very professional and friendly. He gave us plenty of guidance through the whole process and because of this, we had great success in selling our home! We highly recommend Gabriel and team for first-time homebuyers/sellers, or even if it's your tenth time buying/selling! Thank you so much for all your help and advice!
It is the many acts of kindness, ongoing communication, caring, understanding, attention to detail and honesty that made all the difference to us during this long process. You went above and beyond to help us, the sellers and the notary to secure & complete this sale. These acts of professional integrity will always instill confidence & comfort to any buyer/seller you engage with. We would have no hesitation in recommending you to anyone requiring Relator services. We will keep in touch. Take care stay safe and once again thank you. Sincerely Debra
Properties recently sold

Loading
Discover the RE/MAX programs
Follow us on Facebook
Like our page and be the first to be informed about our latest news and exclusivities.
Visit our Facebook page